ROLE                                                     
WHEN                                                    CLIENT
Visual Design                                       2 Weeks, Fall 2017                                School Project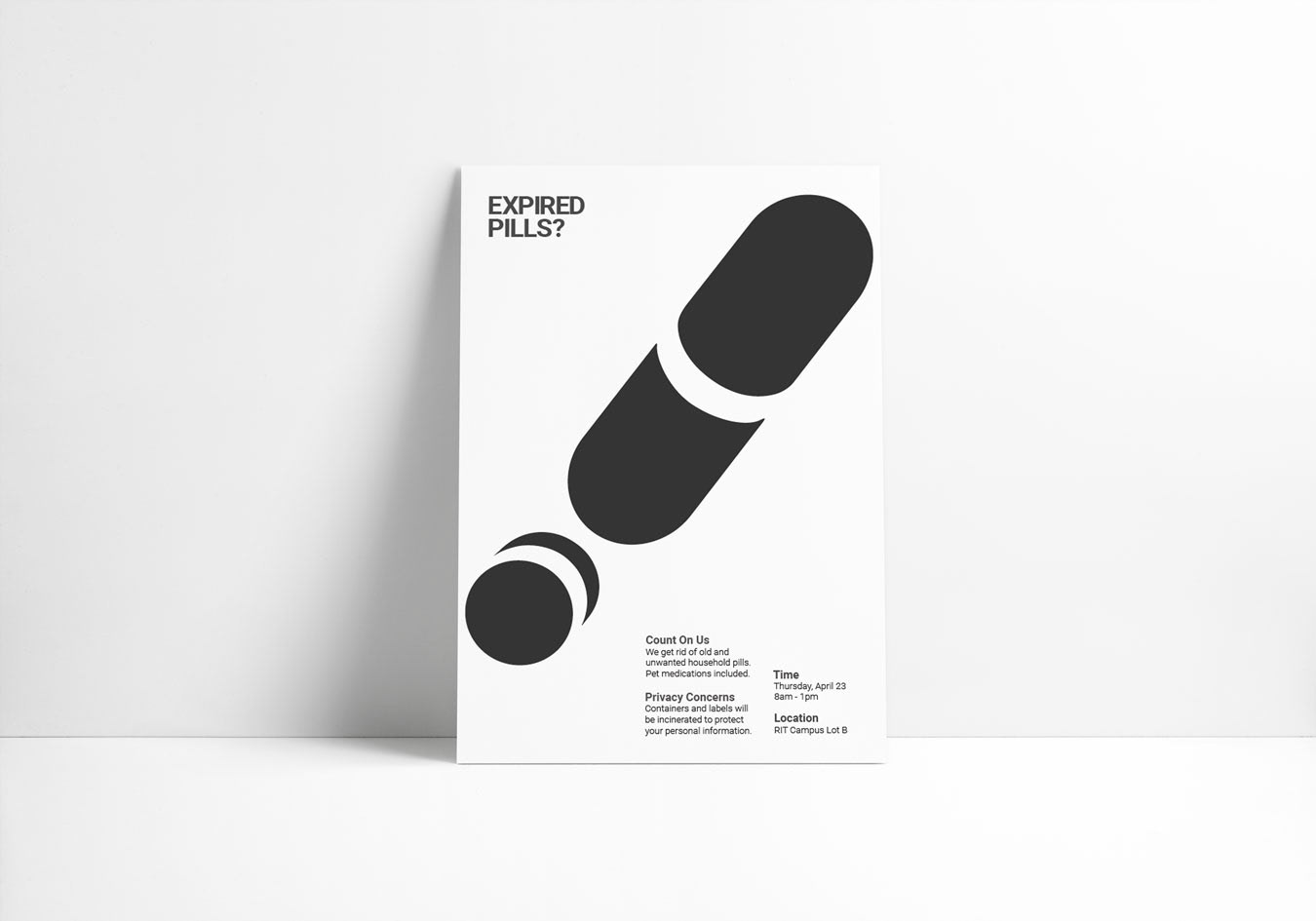 Project Brief
Not only does the toxic breakdown of medicine harm marine life and pollute ocean waters, increased levels of estrogen makes its way back to our water supplies and spurs testicular cancer. The purpose of this project then is to
discourage users from pill flushing
and
encourage them to attend
Monroe County's free pill disposals.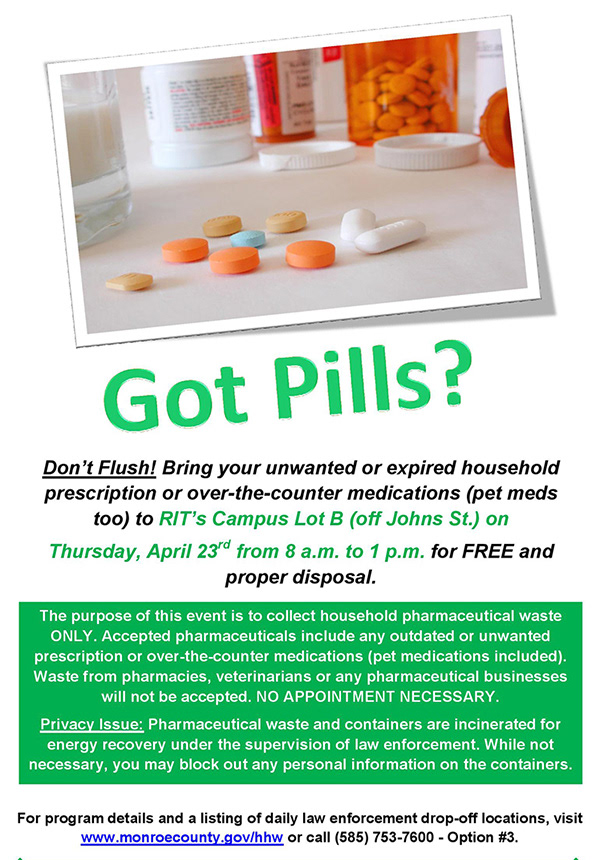 The Original

Loss of Grouping
White space, line height, and alignment are all lost in the use of bold text
and green color
Information Overload 
Important details are lost in cramped text fields and given no focal points
Typographic Structure
All type is bold and varied minimally in size, weight, and texture 

Where's the weight?
For each poster, typographic restrictions were provided. Posters were limited to 1 font size and weight, 2 font sizes one weight, 2 font sizes 2 weights, and unlimited font sizes and weights.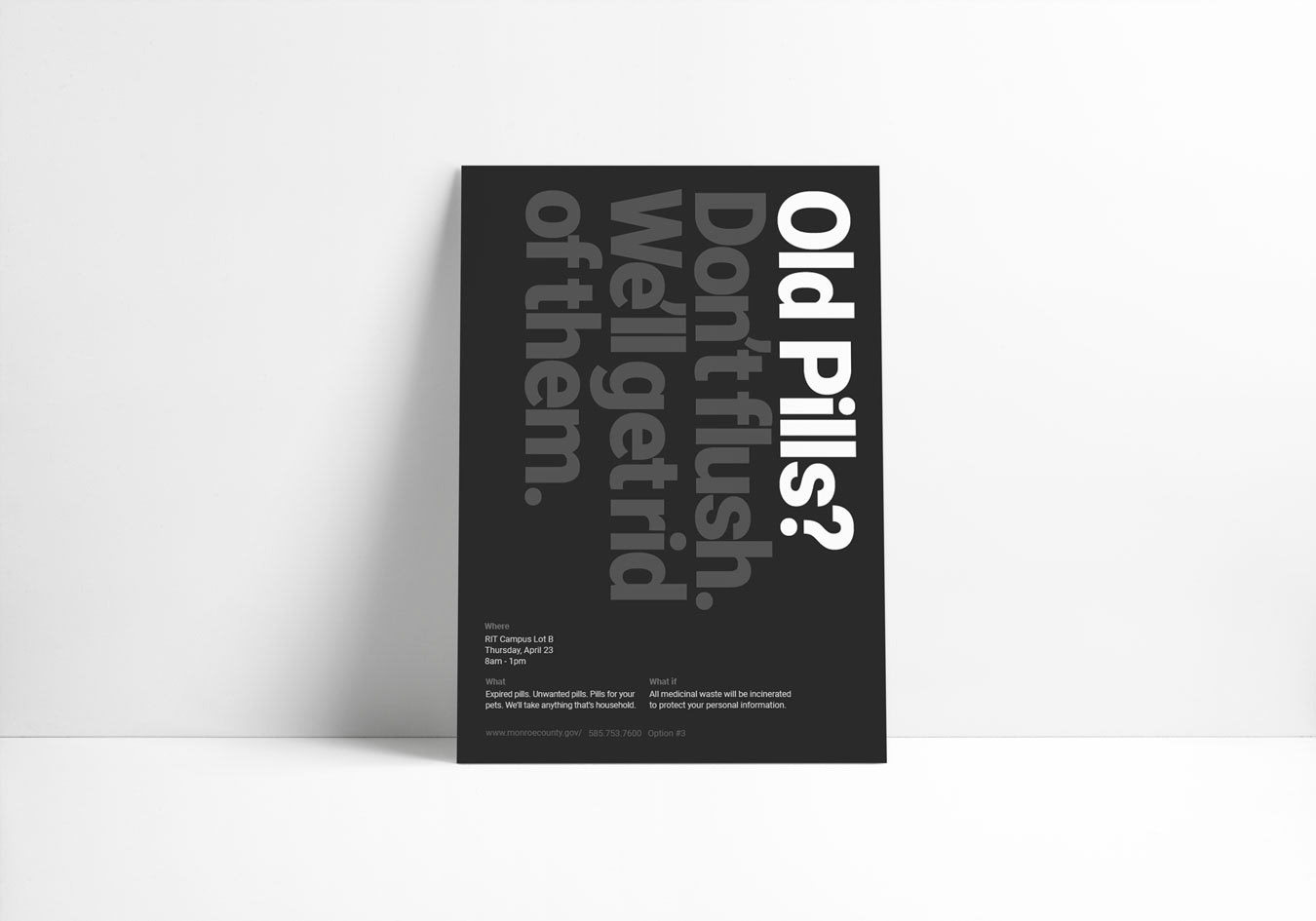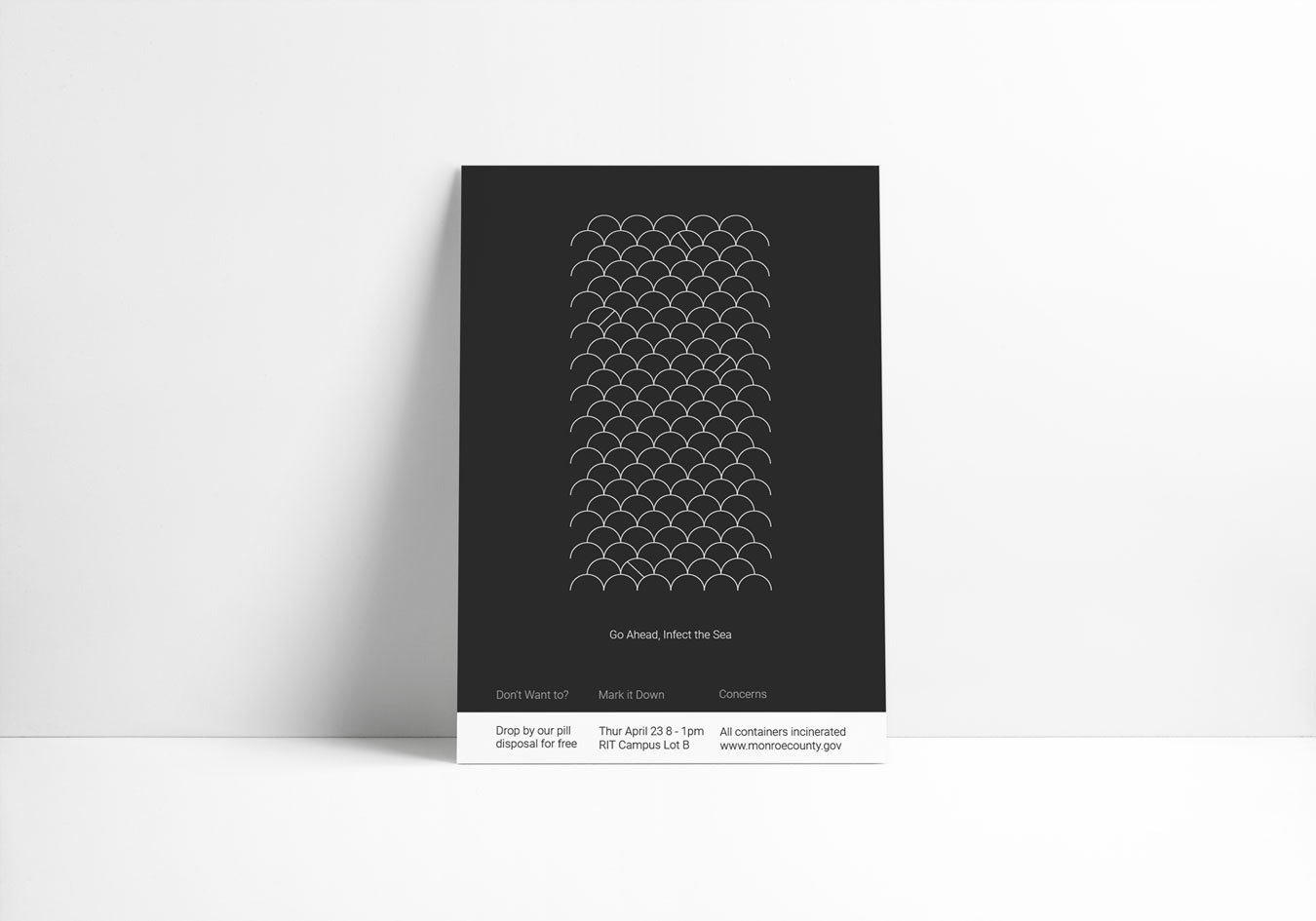 ROLE                                                     
WHEN                                                    CLIENT
Visual Design                                       2 Weeks, Fall 2017                                School Project
Project Brief
The Rochester Museum and Science Center is holding a lecture of 7 currently in-the-know lectures over the span of 7 weeks. Admissions vary depending on student, adult, and member status, dates are vital for potential guests to mark down, and guest speakers are the highlight. 
The goal of this project is redesign RMSC's event posters to
inform potential attendees of fees, when they should come, and who they should come see
. Each poster focuses on a different detail.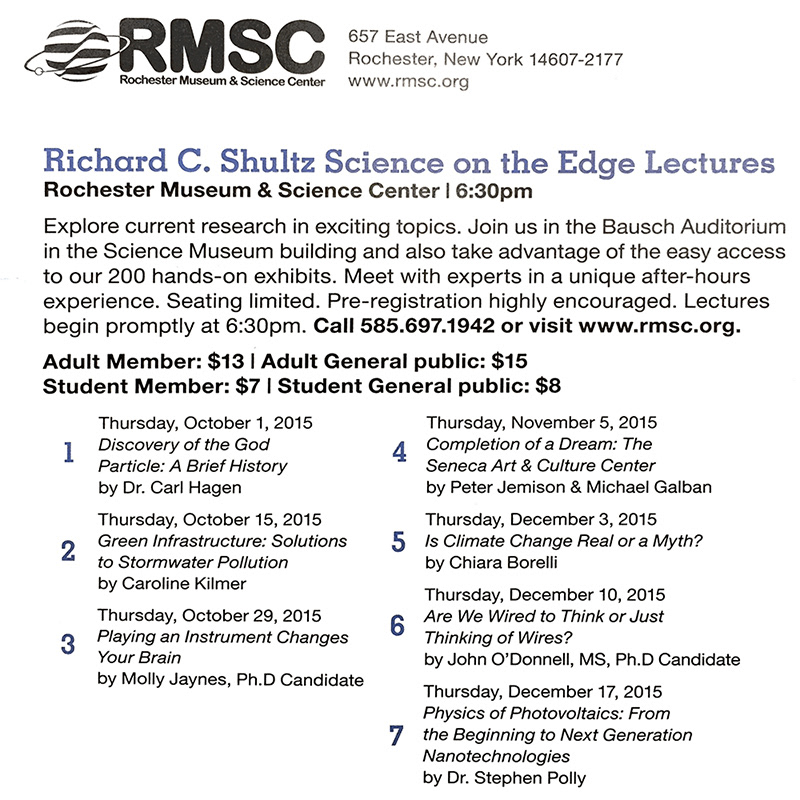 The Original
Little Typographic Variation
No focal point is establish and the viewer's eyes begins to wander 
No White Space 

Separation between texts can establish elegance and breathing room
Extraneous information 

Keep it short and sweet, necessary details only!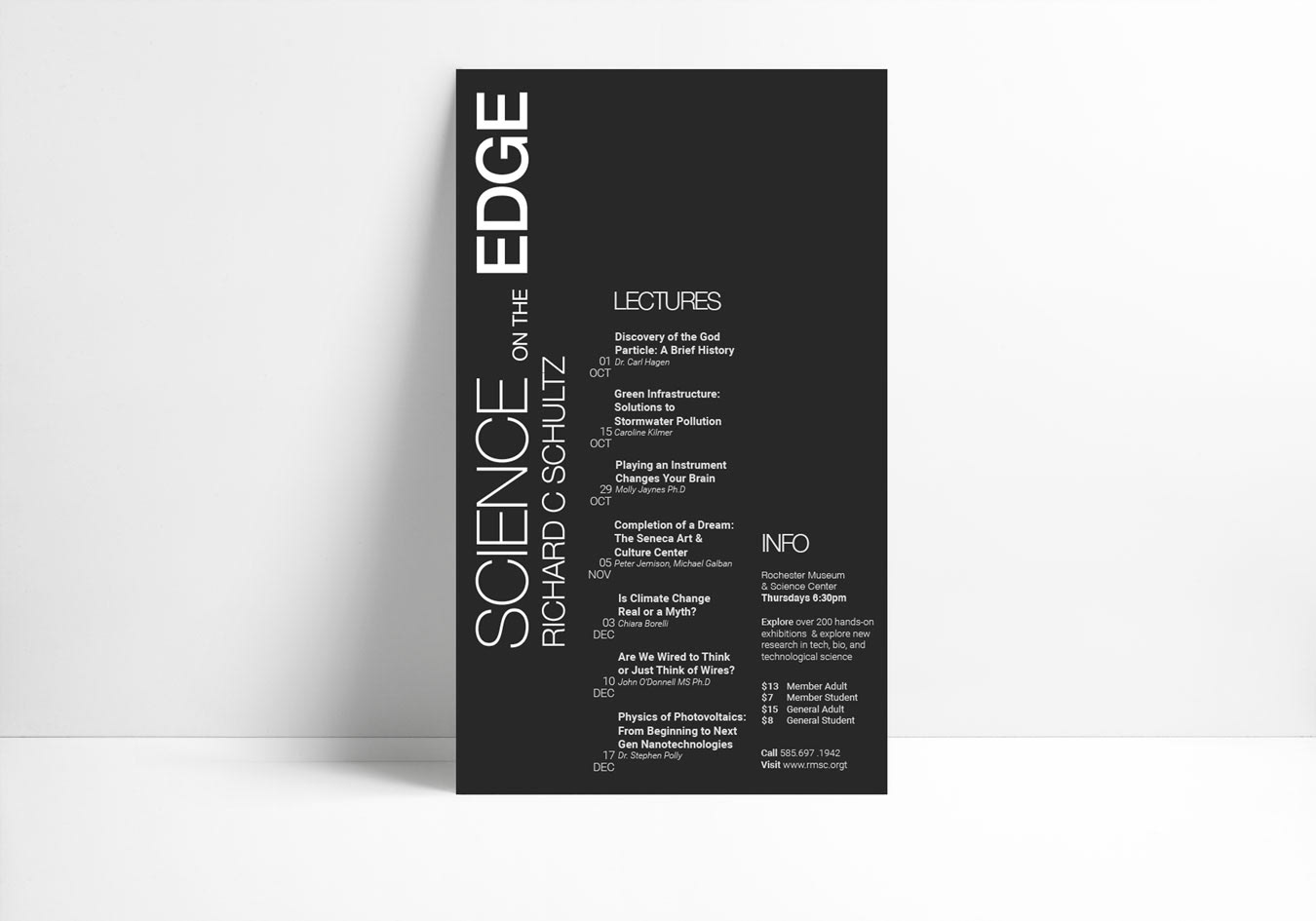 A designer-inspired poster
ROLE                                                     
WHEN                                                    CLIENT
Visual Design                                       2 Weeks, Spring 2017                           School Project